Dental Implants – Plano, TX
Replacing Your Entire Smile, Roots and All
Traditional bridges and dentures only replace the portion of your teeth that is normally visible in your mouth. Dental implants, on the other hand, are unique in that they can replace the roots of missing teeth as well, giving them unmatched stability and an extremely natural feel. If you're missing one or more teeth, dental implants from our Plano, TX dentist could be the ideal way to restore your smile! Give us a call today to schedule a consultation and take the first step of the dental implant process.
Why Choose Westpark Village Dental Care for Dental Implants?
Dental Implants Placed In-House
High-Quality, Long-Lasting Restorations
CT/Cone Beam Scanner for Accurate Treatment Planning
What are Dental Implants?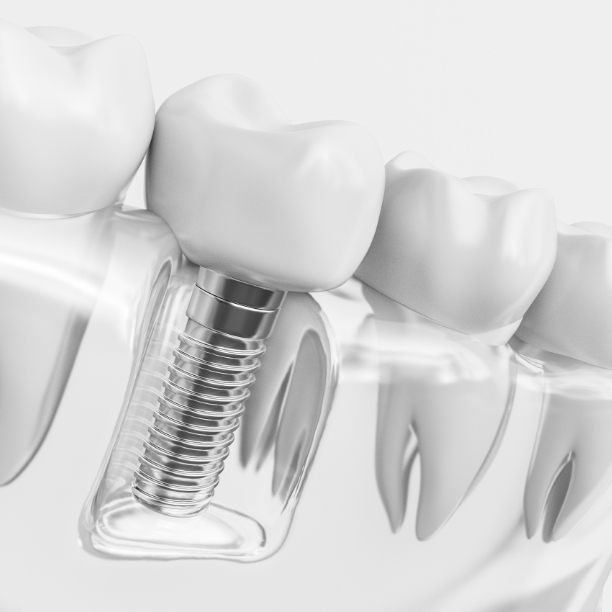 Each dental implant is shaped like a screw and made out of titanium. When teeth are missing, we can insert dental implants into specific parts of the jawbone so that they can support a custom restoration. Dental implants can be used to replace any number of teeth, and they give your new smile enough chewing power to handle virtually any kind of food without issue. Unlike traditional dentures, dental implants are designed to stay anchored in your mouth at all times.
The 4-Step Dental Implant Process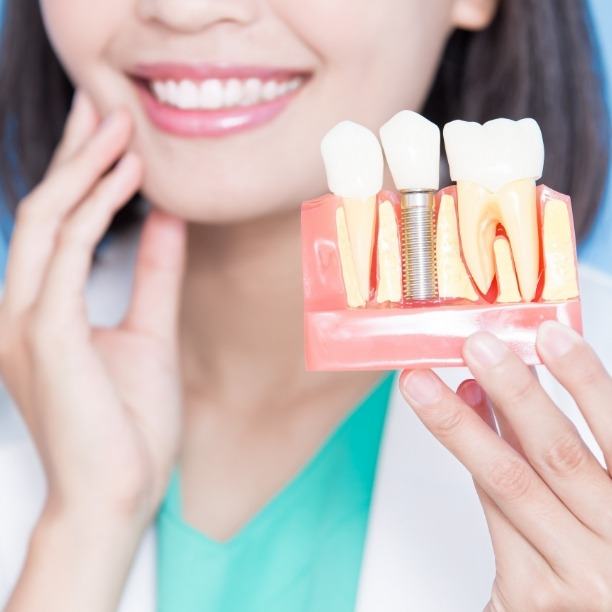 Initial Consultation: Before you can get dental implants, we need to thoroughly examine your mouth and evaluate your overall oral health. Depending on our findings, we may deem it necessary to have bone grafts or other preliminary procedures performed before scheduling your dental implant surgery.
Implant Surgery: Our team will numb your mouth before inserting the dental implant posts into your jawbone. The location and position of each post will be carefully determined beforehand.
Osseointegration and Abutment: After about three to six months, the dental implant posts will have fused with your jawbone, and we'll be able to attach a metal connector piece called an abutment to each post.
Delivery of the Final Restoration: The last step is to design and place a crown, bridge, or denture to complete your smile. The restoration will be expertly designed using an impression of your mouth.
Benefits of Dental Implants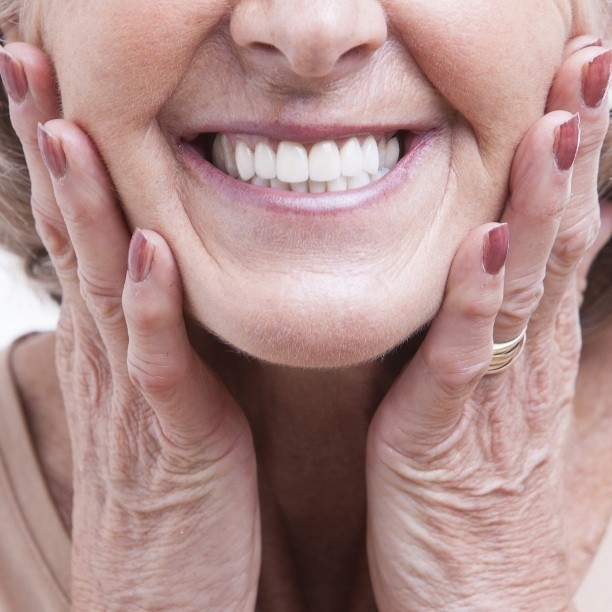 Dental implants allow you to enjoy all of your favorite foods without restriction, which makes it much easier to practice good nutrition. Furthermore, your daily oral care routine won't change much since dental implants can be brushed and flossed normally. And in terms of oral health, dental implants are the only kind of tooth replacement that will prevent bone loss in your jaw. Finally, dental implants last several times longer than traditional bridges and dentures; this lets you save money since you won't have to pay for a replacement every few years.
Who Dental Implants Can Help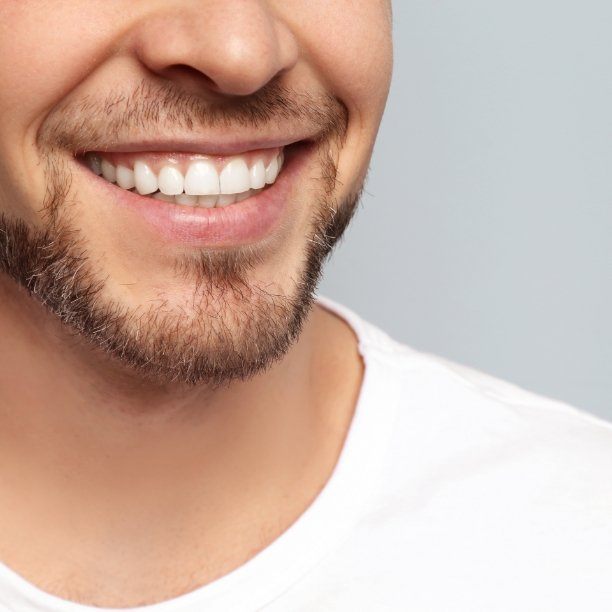 If you are an adult, are in good enough health for minor surgery, do not have lingering oral health issues like gum disease, and can commit to practicing excellent oral hygiene at home, you may be a good candidate for dental implants. We can determine whether this procedure is the best choice for you during an initial consultation. Once you've committed to the treatment, we'll walk you through the steps of the procedure so that you know what to expect.
Missing One Tooth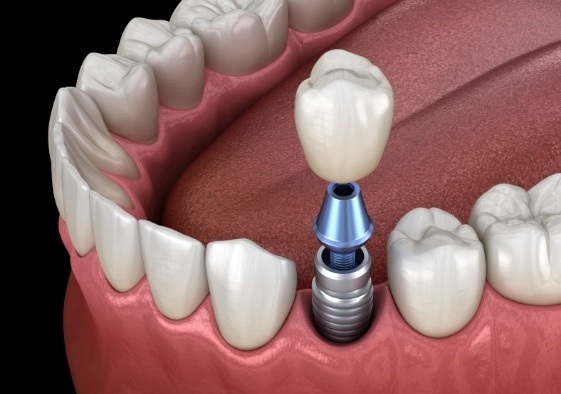 Replacing a single tooth with dental implants is a relatively simple matter. All we need is one dental implant post and a customized crown. Said crown can be made out of materials that match the color and light-reflecting properties of your natural enamel, making it look as though you never lost a tooth in the first place.
Missing Multiple Teeth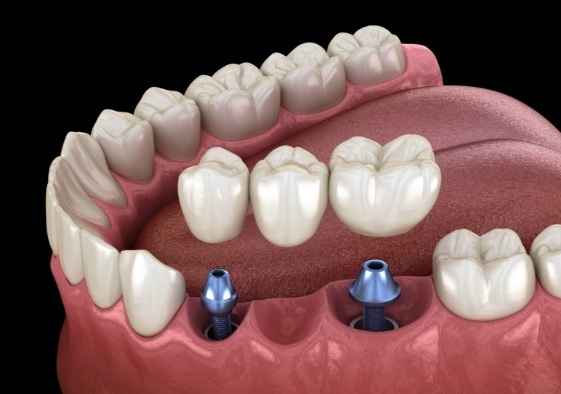 We don't have to place a separate implant post for every tooth that's missing in your mouth. Three or more consecutive teeth can be replaced with a dental bridge supported by a pair of implant posts. Unlike traditional bridges that use natural teeth for support, implant bridges don't require us to make permanent changes to your enamel.
Missing All of Your Teeth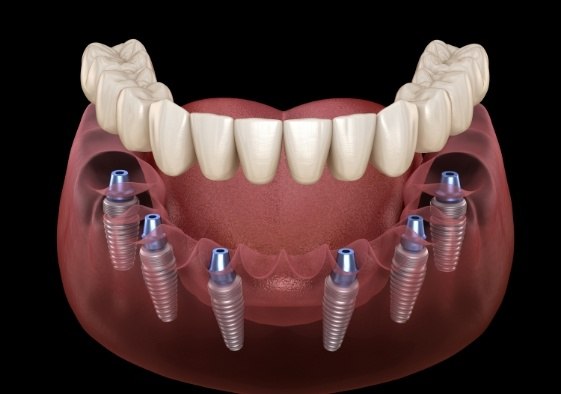 We can replace all of your missing teeth at once with dentures and a strategic number of implant posts. The exact number of posts we place will vary depending on your needs, but you can usually expect it to be anywhere from four to eight. The implant posts will prevent your restoration from slipping at inconvenient moments.
Understanding the Cost of Dental Implants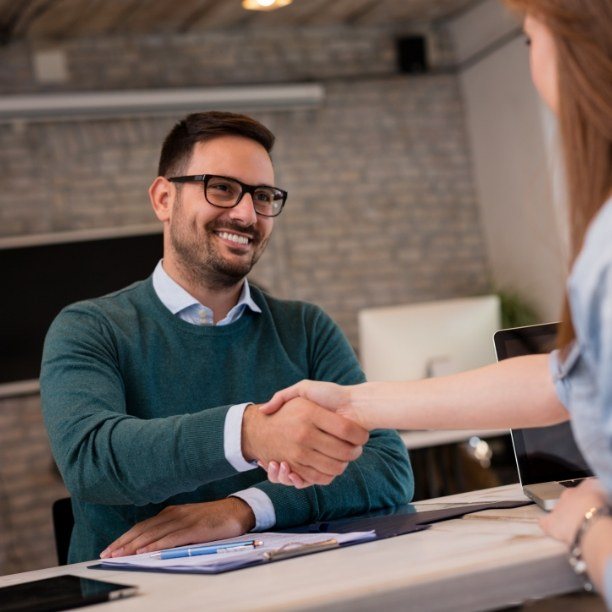 At your initial consultation, we'll provide you with an estimate of how much you can expect to pay for your dental implants. The final price will be determined based on various factors, such as the number of teeth that have to be replaced and whether any preliminary procedures will need to be completed beforehand. In addition to explaining the costs, we can also review what options are available to help you pay for dental implants in a way that doesn't break the bank.